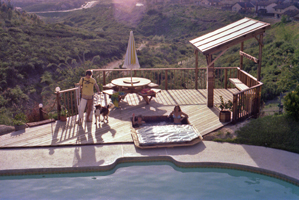 View from second floor of house looking west
Built retaining wall just past far edge of hot tub. Installed footings for telephone poles beyond the retaining wall. Added ball valves to pool pump/filtration system, and extended to spa area. Back filled retaining wall, leaving room for spa.
Trucked free telephone poles from Palmdale to San Diego. Erected telephone pole columns, and cross member on top of columns. Cut notches in horizontal telephone poles that spanned the area from the pool to beyond the cross Emailer, such that the upper surface was level. Notched sides of telephone poles for 2x6 pressure treated joists, and installed joists.
Made hot tub from fiberglass concrete form used for making Lindbergh Field. Installed jets and plumbing. Lined it with redwood. Installed benches. Maneuvered into hole and connected to pool pipes and pipes to separate thermal solar panel and pump system that was to be erected on sun shade.
Covered horizontal telephone poles and joists with 2x6" redwood. Built hinged and counterweighted spa lid, installed it and insulated it with extra pool cover material.
Built handrail. Built sun shade with copper thermal solar panels, lighting, clothing/towel hooks and bench.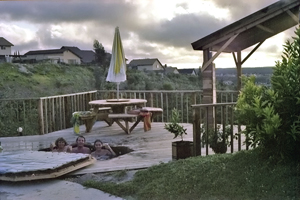 View from pool diving board
Built unusual table from scraps. Made top from wedges radiating from center. Similarly made Lazy Susan for circulating food among as many as eight people on the cantilevered seats.
Installed telephone pole scraps as columns for cantilevered stairs supported by diagonals used to support telephone pole cross arms. Installed 4x4" posts to further support stairs and a rope handrail. Installed lights on top of posts to light winding stairs down steep slope over ice plant to gate at property line.
Converted rear side lawn to elevated maintenance-free garden partially enclosing pedestal BBQ (not shown).
Poured large slab, replaced single gate with large double gate, and erected motor home carport on south side of two-story home to help cool house as well as provide covered storage and increase house value.
Installed driveway blocks that allowed grass to grow inside while supporting motor home driving in and out of covered parking area.
Transformed flat front lawn into maintenance free hilly ground cover with winding rock stream bed to drain roof to street.