Designed house from exterior drawing and floor plan of a Victorian house. Inverted floor plan so living room, dining room, kitchen and office are on the top floor to take advantage of the view and natural convective warmth, and so bedrooms were cool. Added three-car garage. Septic tank includes guest connection for motorhome/trailer.
Contracted for primary structure. Subcontracted back to do a lot of work myself to reduce the cost. Installed water tank, utilities from power pole and telephone junction to free standing power panel. Designed and installed intruder alarm system. Built balcony. Built dumbwaiter for groceries and firewood. Designed and installed irrigation system for all 2.5 acres (primarily eucalyptus trees). Landscaped area adjacent to house, including block trim around driveway and columns for wrought iron gate I automated with a modified garage door opener inside one column and a latch in the other. Installed TV antennas in peak of spire.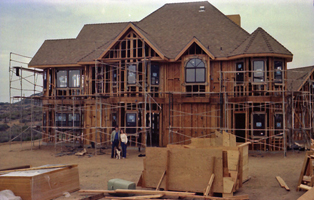 Environmental features:
4" rigid foam insulation on roof, except over kitchen where conventional insulation is used over conventional ceiling (frost everywhere except over the kitchen attests to efficiency of foam).
Open beam ceiling collects waste thermal energy from appliances, windows, fireplace and bodies.
Downdraft furnace recalculates thermal energy, requiring little to no propane augmentation. Intended to add solarium/hot tub, but it was not required to warm the house, so its priority slipped beyond the sale of the house.
High skylight opens to vent unwanted thermal energy and draw cool air in from deep, moist red apple beds through large ducts under the garage slab into the house to cool it. Enabling drip sprayers in red Apple bed provided evaporative cooling. Included option to add refrigeration to furnace system, but the house was rarely uncomfortable, so the expense of adding refrigeration was not justified.